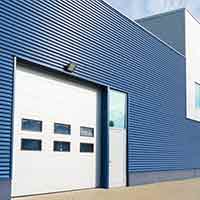 Are you thinking of trying to install your own garage door? Good luck! It's a heavy task; literally! Not only does your several hundred pound garage door weigh a lot, it is ponderous, unwieldy, and must be perfectly positioned and attached to dozens of other components. These include springs, cables, pulleys, tracks, hinges, opener unit, cables, safety eyes and more! Are you up to the task?  Do you have the know-how and the experience to do all this? Do you even have the time? Relax; there's an easier and better way to get your home or business garage door installed!
Call Us: (623) 748-0911
You guessed it; call Buckeye Garage Door Repair and we'll do it for you at an amazing price, and on your time frame! Why would you consider any other solution? Our family owned garage door repair shop has the experience and skills necessary to lift your new garage door into place and ensure that it is functional, safe and properly connected to all other components. Face it; you don't want to be a slave to your garage door; you want to use it and have it be reliable and dependable. You also have better things to do with your time than struggle for hours trying to connect all of these garage door parts!
Call Now: (623) 748-0911
Working with Buckeye Garage Door Repair offers money savings, time savings and sanity savings! We take this ponderous task and make it look easy! We should after all; we've installed hundreds of garage doors in every neighborhood! We offer you:
Numerous performance checks
Licensed, bonded and insured technicians
Free price quotes
Convenience when you need it!
Very affordable rates
Calls taken 24/7 by live operators
Mobile installation service
Same day service
25 point safety inspections
All this and a perfectly installed garage door, too? When value is needed, Buckeye Garage Door Repair always comes through!
Call Now: (623) 748-0911
But wait; what if you don't have a new garage door yet and need to get one before you have it installed? No problem! Buckeye Garage Door Repair can help here, too! We offer garage doors and accessories in every price range and style. No matter what you need; we can provide it!
Selection assistance for new garage doors
Connection to springs, tracks and pulleys
Connection to tracks, cables and pulleys
Garage door opener attachment
New overhead garage doors and gates
Upgrades and option packages
Rolling doors and fire doors
It's important to match your home or commercial space's style with that of your new garage door. You wouldn't want a Tudor style garage door added to a Pueblo style home; it would be like smearing peanut butter on a steak! Mismatching is never a problem when our Buckeye garage door repair pros help. We know the value that a properly working, good looking garage door brings to your home and to your street.
Call Today: (623) 748-0911