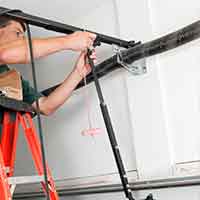 One of the most important and misunderstood components of your garage door package is your set of springs. These hard working metal coils do the heavy lifting and lowering each time you access your residential or commercial garage door. You might think of them as the unsung heroes in your garage that work tirelessly to add convenience and safety to your life. Be honest; how many times do you marvel at the performance that your torsion or extension springs are providing when you operate your garage door? If you are like most, it's very few, that is until they stop working!
Call Us: (623) 748-0911
When garage door springs break or become damaged, you know it! Everything from suddenly dropping garage doors to highly noticeable tilted looks make this evident. Fortunately, there is professional help nearby in the form of Buckeye Garage Door Repair! We service, install, repair and replace extension and torsion springs for area home and business garages. With fast, same day service, round the clock emergency help and easy to work with prices, you won't find a better solution to your garage door spring issues than our licensed, bonded and insured Buckeye garage door professionals.
Call Now: (623) 748-0911
When it comes to value, it's hard to match our Buckeye Garage Door Repair spring services. Our highly experienced technicians work on springs every day and the results speak for themselves. We offer:
Affordable rates
24-hour emergency service
Fast service
Garage door opener installations
25 point safety inspections
Repair for damaged springs
Parts and labor covered by warranty
Garage door motor repair
And lots more!
Trust your garage door springs to best, and call Buckeye Garage Door Repair when yours need help!
Call Now: (623) 748-0911
Sometimes, the question of do-it-yourself spring repair comes up. Here at Buckeye Garage Door Repair, we advise against it! The idea is to buy your own springs and install them or repair them yourself and to save money in the process. Sounds good doesn't it? There are a few problems with this. Firstly, spring repair or new installation takes skill and experience in order to do it right. Do you have these attributes? If not, the possibility of something going wrong is high. Every year many people are injured and even killed by one of these powerful springs when it snaps and flies uncontrollably about. They have even been known to fly through windshields!
Call Now: (623) 748-0911
Why risk injury, property damage, or even death by taking this risk? A much better solution is to call on local spring repair professionals that can diagnose, repair, or install one or both torsion or extension springs as needed. Our Buckeye Garage Door Repair experts are affordable, vastly experienced and highly skilled. Our spring service is done on your time frame and that can even be same day! Warranty protection is always available and our 25 point safety inspections are included with every service job. Quality spring repair is never more than a fast phone call away so don't put it off; call our shop now and get your springs into shape today!
Call Today: (623) 748-0911