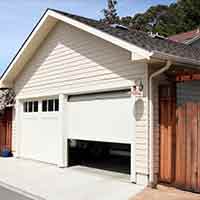 What do you expect from your garage door opener? Well, for starters, you want it to work reliably and on-demand. You also want it to be low maintenance and not needing adjustments or repairs all the time. Add to that, safety and ease of use and you've got the makings of a great garage door opener for your home or business.  Where does one find service like this? You guessed it; Buckeye Garage Door Repair! We pride ourselves in offering the area's best garage door repair, new installation and service assistance. Call our shop today and find out more. You expect a lot from your garage door opener and with our help, you'll get it!
Call Us: (623) 748-0911
What's the big deal about garage door openers, anyway? Aren't they all the same? The truth may surprise you. Our Buckeye, AZ garage door repair pros have found that quality openers from the best manufacturers can add extra value and convenience when installed correctly and serviced when needed. That's why our Buckeye Garage Door Repair mobile technicians offer all of these needed services to our local customers. Give our expertise a call! You can contact our friendly staff for:
Huge selection of new opener models
Free price quotes
25 point safety inspections
Service for out of track doors
The latest opener models
And lots more!
Don't worry; using our service is fast, easy and affordable. See for yourself by calling Buckeye Garage Door Repair and getting more information and some free price quotes!
Call Now: (623) 748-0911
You sometimes hear garage door repair technicians say that they "do it all" and some really do! Buckeye Garage Door Repair counts among those. We offer our local customers everything they need for comprehensive, best-quality garage door opener repair, service and installation. Whether your opener motor needs fixing or your opener chain requires replacement, you will always find what you are looking for when you call our licensed, bonded and insured shop. We proudly offer opener 25 point safety inspections, free price quotes, same day appointments, 24/7 emergency service, unbeatable rates and lots more!
Call Now: (623) 748-0911
Do you need installation for a new opener unit that you already have? Buckeye Garage Door Repair can do it! Do you need to replace your poorly or non-working opener with a new one and don't have one yet? No problem; we offer a vast line of garage door openers including models for the budget minded to the most option laden, upgraded models on the market. That's right; something for everyone! We carry always popular openers like the jackshaft, chain-drive, belt-drive, and screw-drive models. From whisper quiet operation to heavy duty lifting, we offer the features and options that you need and want in your new garage door opener. Isn't it time that you got your money's worth in a high quality, expertly installed garage door opener? You can by simply calling the one local shop that can provide it; Buckeye Garage Door Repair!
Call Today: (623) 748-0911