Garage Door Repair Buckeye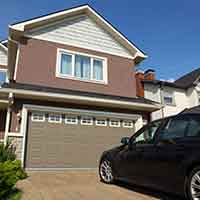 Garage door repair sounds simple, but it really is more complicated than that. Sure, you fix the part(s) that are broken and maintain the ones that aren't, but did you know that there are hundreds of different parts to a home or business garage door? Not only that, these parts must all work correctly and together in order for the whole apparatus to be safe, reliable and functional. We've all heard of the classic situation where you fix one part and then suddenly another one needs repair. This is not only time consuming and annoying; it can be catastrophic to your schedule and even dangerous!
Call Us: (623) 748-0911
A damaged garage door can force you to park in the street or driveway. Maybe it won't open due to a snapped spring or broken cable. It might even look bad if your teenager backed the car into it and damaged some of the panels or panels. Having a damaged garage door even lowers the value of your property. You don't have to lose access to your garage AND curb appeal of your house just because your garage door needs service. One call to our Buckeye Garage Door Repair pros is all it takes to get premium quality help at the best rates.
Call Now: (623) 748-0911
Smart Buckeye, AZ locals choose our shop over the others for good reasons! Our proprietors love to give value and you can see the results in our work! We proudly offer:
Convenient, same day service
Free price quotes
Mobile repair service
Warrantied parts and labor
24-hour emergency assistance
Residential garage doors
25 point safety inspections
Licensed, bonded and insured
Very affordable rates
Calls answered 24/7 by live operators
Call Now: (623) 748-0911
What repair service does your garage door need? Buckeye Garage Door Repair offers so many that we can't list them all! A few examples include:
Spring replacement
Sections and panels replaced
Photo electric safety eyes
Broken cables repaired
Residential garage door repair
Hinge replacement
Bent or broken rollers
Repair for damaged springs
Bent or broken cables
Out of track doors
Broken tracks replaced
Bent track, misaligned or rusted tracks
New garage door cables
Overhead garage door springs
Bent tracks repaired
And many more!
Call Now: (623) 748-0911
Garage door repair entails more than just replacing a spring or cleaning out a track. It involves fixing any and EVERY part of the largest door in your building. Your garage door needs to work safely, reliably and on demand; every time! Using the affordable services of our Buckeye, AZ garage door repair pros will ensure that it will. We even run your newly fixed home or business garage door through a series of safety and performance checks. Where else can you get quality service, customer value AND 24-hour coverage for your garage door? If any part of your Buckeye garage door needs work; get it done the right way and call our Buckeye Garage Door Repair team that is hands-down the best in town!
Call Today: (623) 748-0911